Our Story
We started meeting in 2012 to provide space to talk about the real and authentic challenges, dangers, and joys of life that we experienced as we set about to live as Christian men in the Charleston area. We became The Charleston Band of Brothers.
We gather weekly to talk, eat and pray.
We retreat four times year for focused in depth experiences with God.
We have each others' backs in the battle we call life.
---
Our Passion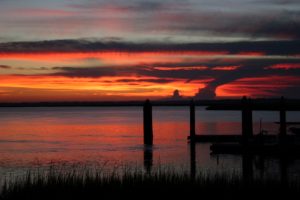 The reason most messages for men ultimately fail is simple, they ignore what is deep and true to a man's heart and try to shape him up through various forms of pressure and/or guilt. Too many messages are basically "You must try harder and be better."
Christianity is not an invitation to become a moral person. It is not a program for getting us in line or for reforming society. It has a powerful effect upon our lives, but when transformation comes, it is always the after effect of something else, something at the level of our hearts. At its core, Christianity begins with an invitation to desire.
We believe God has put deep desires in your heart for adventure, beauty, and truth. Our Band of Brothers is committed to ignite these desires in the men around us and as we do so, we hope you will discover something profound about the heart of God and the heart he gave you as a man.
The Charleston Band of Brothers invites you to explore this truth that will change your life.
---
Our Mission
We exist to help create as many Bands of Brothers as possible across Charleston and beyond.
---
The Current Charleston Band Of Brothers
Capers Barr – Husband of Jodi, father of two boys, and an attorney
Jay Demarco – Husband of Michelle, father of three, and a orthopedic surgeon
Rich Giersch – Father of two boys, and a pastor
Allen Hughes – Husband of Louise, father of four boys, and Christian leader
Rob Elvington – Husband of Meg, father of four boys, and an orthopedic surgeon